Dear Friend and Reader:
THERE ARE A few Christmases I wish I could take back. None of the reasons having to do with how much I loved and needed or was totally annoyed with my family at the time, nor with the number of presents I did or did not receive.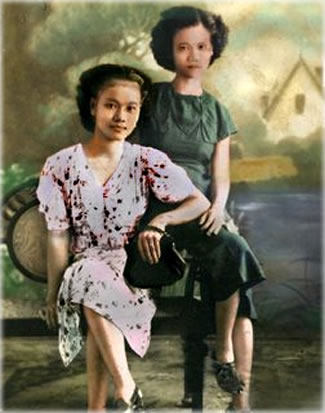 Mama Irene (right) and her sister Rosario. Ilocos Sur, Philippines, 1934.
My parents come from the Philippines, a culture where Christmas was something other than the nog, the flashing lights, the tree and the mistletoe. It was an entire, weeks-long friggin' Christian ritual of making ornaments from bamboo, days of feasting, and celebration of Christ as a baby -- complete with commemorative baby Jesus ornaments. It was
meriendas
at 10:00 pm and mass at midnight with the statues of the family in the manger and the incense going 24/7. It was you trying your best to stay up until the clock struck midnight as your uncles tortured you into entertaining them, about singing your little voice off followed by applause, appreciation and about an ignominious headlong dive for the dollars they threw on the ground for you to pick up as reward. I was part of a family that belonged to a rich cultural tradition going back five hundred years.
Being a child of new immigrants in America, it didn't dawn on me until after our families were nuclearized and split apart that the family-hanging-by-the-rafters Christmases that were fun for us as kids would be so completely replaced by the aluminum tree and the revolving lamp with gold, blue, green and red film. What we bought for Christmas was the cartoon of American culture, which is too often its reality.
Our family worked hard to be every bit as American as we could. Our own culture, rich with tradition, customs, language and music, was replaced by English-only spoken in the house and weekly trips to A&W Burgers on Freedom Boulevard in Freedom, California. At Christmas, instead of
meriendas
, it was the quiet, heavy dinner by candlelight. A blown-up Polaroid portrait of my parents in Sunday best clothes and my sister and I in two-piece JC Penney cotton-knit suits at the ages of six and nine, looking like Filipino facsimiles of Lyndon Johnson, Lady Bird and the two Johnson daughters. No more church, and no uncles sitting in a half-circle with cigars and bucks. And no other kids my age. We were losing every year, cell by cell, pieces of our cultural soul.
What do you do when you lose both a culture and tradition? Who are you? Where do you belong? These are questions I've asked myself every time I've looked in the mirror. Commensurate to losing our culture to a homogenous society was losing my mother's language, and with that, the means to communicate coherently with my own parents. By the time I was an adolescent, my parents, born in the Philippines and I, born in America and raised in the Sixties, were speaking languages from different planets.
I feel as though time, the zeitgeist of the era I grew up in, and my own creative choices to be who I was authentically propelled me towards approaching every Christmas as a stranger in a strange land. Yet I still longed for a home which was not just a place but a culture and a tradition. That longing happened even though I knew that on Dec. 26 I would set sail again for places the family of my earliest Christmases couldn't even dream.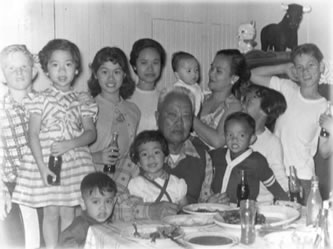 Family party in Watsonville, CA, 1959.
Today marks my second Christmas without my sister's family. They're headed to Fiji for some well-deserved time away after a full year of college pressure on the kids and a career-heavy year for my sister. Blame it on my south node in Cancer, but last year when my sister first took her family travelling instead of staying home for Christmas, I felt adrift and grieved. Where would I find my Christmas? Did I want to? I realized that as hard as it was at first to accept, it was, after all my years of pursuing my own life in spite of traditions lost, my choice as well as theirs.
My sister and her husband are now walking the road that comes to parents. Make a home and a life for your kids. Watch them leave to pursue their own way, their own dream, their sense of authenticity, their personal freedom. It's all their journey now.
It's a strange world celebrating the holidays here, in this life, in this place. My holiday memories come from places and times with traditions that are as deep as bedrock. To someone like me, who straddles two worlds, at home in neither, the holidays come with this sense of duality: the loss of your cultural identity, and the constant striving to create a new one as each year passes.
The binding of our family to a Christmas tradition has evolved from the gathering at home trying to hold on to our sense of identity in a new world to opening up to the bigger world. Not an easy thing to do. The transition can be rough, especially if you've been culturally rendered like we have; when traditions become stripped of their feeling. Yet at the same time, I'm finding it is an amazing, dark and mysteriously lovely world, even when and if we are celebrating Christmas. The holidays are a fulcrum from which we mark our changes, find our families -- blood or true, and our relationship to them and to time.
Every holiday, I find I'm still always searching for me. Maybe that's the lesson from this life of coming from two worlds: It's the search for who I am that's ultimately my native and adopted country, my culture and my year-long holiday tradition. It's that search itself where even though I get distracted from time to time, wondering whether or not I will be alone or with others over the holidays, I still find that I am finally, and most assuredly, at home.
For Planet Waves, this is
Fe Bongolan
San Francisco