A woman, risen from the sea
Dear Planet Waves Subscriber:
The other day I got curious about the term 'self-actualization', which I hadn't heard for years. The first time I encountered it as a kid (in the '70s, when people seemed to talk about this stuff more than we do today) I intuitively knew what it meant. To me, it was about the process of becoming real, that is, of becoming fully human.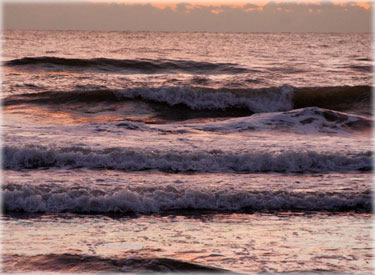 Mediterranean Sea, from a series called Daybreak in the Path of Annularity, in Valencia, Spain, 2005. Photo by Eric Francis.
When I looked it up, I learned the term was invented by Kurt Goldstein (1878-1965), a German neurologist and psychiatrist. Kurt was one of the first theorists in the Gestalt Therapy movement, and one of the original modern holistic thinkers. His clinical work involved studying the relationship between the mind and the brain, in brain trauma patients; Gestalt puts emphasis on the mind-body connection. Holistic theories emphasize unity and integration as expressed through our natural human tendency to grow and mature.
It was Abraham Maslow (1908-1970) who put the concept into popular language. It was at the top of his famous 'hierarchy of needs', that pyramid published in a 1943 paper that you had to memorize in psych class. It starts with basic biological needs such as food, breathing and sex as the foundation of existence. It extends upward toward safety, love, belonging, self-esteem and finally, at the top, we have self-actualization. This includes creativity, spontaneity, problem solving, acceptance of facts, and morality.
I will take an editor's liberty and update that last one to 'ethics', since this applies a more flexible approach to difficult questions. I will add mortality, since that's a key element in consciousness of one's full humanity. And I would check one other thing: these days it takes a good bit of creativity and problem solving (an advanced need, in his theory) to meet the fundamental needs at the bottom level. We can at least thank Maslow for getting the term self-actualization into our hands, and for reminding us that psychology starts with biology.
He had one other idea that I like: if you want to understand how healthy people function, study them, and not pathological cases. So that is what he did.
Continue Reading | Subscribe to Planet Waves


We Must Stop Playing Small
|
Political Waves
I regret to inform you that we have now officially entered the campaign season of 2010. If you do not follow politics, even deliberately avoid them, you may shrug and say, "So what?" The 'what' is an increase in rhetoric, posture and promise high pitched enough to make one wince. As we're only a week or two into the season, we have yet to notice the change in tempo. With so many dire national predicaments on so many levels, candidates sniping at each other seems small potatoes. The decibels are sure to rise.
So what if Florida Governor Charlie Crist made the mistake of giving Obama a man-hug and had to bail out of the Republican Party to run for the Senate as an Independent? So what if Senator Bob Bennett in Utah lost his primary challenge because he dared cross the aisle to work toward a bipartisan health care reform bill? So what if the Governor of Arkansas had to change his position on evolution in order to stay in the race?
As we prepare ourselves for campaign shenanigans and bemoan the lack of civility in our nation, historians remind us that American politics have always looked this way. Some cite the
infamous duel
between Vice President Aaron Burr and Treasury Secretary Alexander Hamilton, a bit over two hundred years ago. Burr had made 'scurrilous' remarks about Hamilton, and the tit/tats escalated into a shootout that ended Hamilton's life and Burr's political career.
Can you imagine Joe Biden meeting Tim Geithner on the Boston Common today, dueling to the death over a personal slur? If I could resurrect Mr. Hamilton and bring him up to speed, perhaps he could tell me if an 'honorable' end is preferable to the Swiftboaters' psychic death-by-a-thousand-cuts that ended the career of paraplegic Senator Max Cleland and blunted the considerable influence of Senator John Kerry.
Continue Reading | Subscribe to Planet Waves




Weekly Horoscope for Friday, May 14, 2010, #816 - BY ERIC FRANCIS

There's only so far you can drag yourself backwards before you decide it's time to proceed in the direction you want. You've struggled with a tendency to attempt serving two masters: one being yourself, and the other being some past influence that is allegedly dictating who you should be and why you should be that way. Though it seems like 'the stronger voice will win', in truth the voice you give the most energy to will win. As long as you try to divide your loyalty, you will divide your character and feel paralyzed. I suggest you focus on listening with precision to the voice you want to hear, and making that decision on the basis of how you feel. How will you know that you're hearing a past voice? Simple: a familiar sense of frustration. And a more loving voice? Simple: a sense of your potential opening up.


You're starting to tap into some of the creative energy that you've been carving for a few weeks; or I'm here to tell you the portal is open. What I trust you've learned is not to judge what you're creating while you're doing it; stand back from the process and allow it to happen. This includes what you say, and in particular, what you say about your future plans. If nothing else, your past judgments can inform you that your criteria for 'quality' and 'excellence' are too strict, and at the very least you need to take a more compassionate view of what you're doing. I say this not to lower the bar, but rather to offer a way that allows some of your subtler potential to come through in the form of satisfying achievement.


The most daring risk you can take is with your mind. You must be feeling this; it's about what you 'allow yourself to think'. For a while you've been thinking about allowing yourself to think about something, and now you're thinking about just doing it. This is alternately called a hang-up, or seduction. I suggest you go with seduction, since it's more fun, it's easier and it has a more productive goal: exploration of desire. I suggest you allow yourself to do this consciously. Experiment with wanting the most daring experience you can want; the riskiest emotion; the most vivid physical sensation. I have a feeling there will be a struggle here, which is the notion that 'it might be wrong' or a question about whether it's actually healthy. Going deep into this feeling is part of the journey.



Taurus Birthday Audio by Eric Francis is available.

Check this link

for more information.
Pisces Birthday Audio by Eric Francis is available.
Check this link
for more information.