Note to Readers:
Between the Sun's opposition to the potent Nessus-Damocles conjunction earlier this week, the New Moon on Monday and the current Saturn-Jupiter opposition, you may be encountering cosmic stress and strain a bit more than usual these days. If you feel like you're being pulled between two demanding masters while being flooded by old emotional wounds and patterns, you're not wrong. Eric describes a path through the perceived chaos that engages this internal tension productively in his lead article this week -- the key is Pluto in its square to the two gas giants, as he explains. You deserve to find a little centering in the midst of this summer's dynamic astrology, so here are two simple ways to give yourself the well-deserved gift of Eric's insights in full, complete with horoscopes for all 12 signs each week. The first option is a
one-month free trial offer
to
Planet Waves Astrology News
. Or you can commit to your inner growth with
six full months of Astrology News at a discount
. Also note, the much-anticipated Leo Birthday Audio is being released today and we feature free audio on the blog every Wednesday.
Three Lifetimes in One
Dear Fellow Traveler:
The cardinal sign alignment we are living through keeps taking new forms. It really consists of many aspects at once, and at different times different aspects come into focus. It's a little like using a camera on a wide-open f-stop: everything is in the frame, but only certain things are in focus at once. At the moment, the focal point is now the Jupiter-Saturn opposition, which is exact Monday.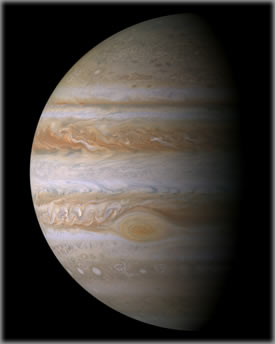 The greatest Jupiter portrait. Credit: NASA.
I haven't described this aspect in detail: it's been a bit lost in the news of outer planets Pluto and Uranus. All Jupiter-Saturn contacts are significant -- they are the two largest planets; they are the two transpersonal planets, meaning they are the gateways between the inner and the outer solar system, and are like a vast area of collective experience. The opposition is the peak of the 20-year cycle that began in 2000 -- it's like a Full Moon between Jupiter and Saturn.
Dr. Marc Edmund Jones, who after the long dark ages helped turn the lights back on in 20th century astrology, called this configuration "two lifetimes in one." (Most are familiar with the work of Marc Jones -- he created the Sabian symbols.)
There is potentially a lot of stress in the parallel-worlds alignment of the Earth sitting between these two enormous bodies, approximately like a pea in proportion to two basketballs. That's what an opposition is -- the Earth between two planets. Astrology does not always come with a gravitational effect, but in some cases it clearly does. The distance of the planets does not make a difference -- they're out there, having their effect on the physical and astral levels.
With Jupiter-Saturn this can feel like two similar but irreconcilable experiences; being pulled apart in two directions; serving two masters or two concepts; needing to integrate two different ideas; or many other varieties of two realities that seem to compete with one another and which really need to be integrated. The Aries Point is involved -- this aspect goes from early Aries to early Libra. Part of the integration is about coming out of our small worlds and making contact with the wider world. There is a wake-up call in this aspect.
Registered Subscribers Continue Reading | Subscribe to Planet Waves

Nice Kitty: Your Birthday Audio is Just About Done

Hello Leo, Leo Rising, Leo Moon!
I am putting the finishing touches on your birthday audio right now. We plan to have an announcement ready by early afternoon and will do a special mailing with that information. This will be an hour or more of astrology plus a tarot reading.
Your reading covers the influence of the cardinal cross T-square about which I've been writing like the aurora borealis in recent months, looking at the houses in your chart where the main alignments make contact. I also go over the Leo New Moon chart and how the recent years of your life have presented a series of relationship-awareness challenges that you're close to the end of, getting ready to move onto a time of increased mutual profit, both emotional and material.
In the tarot reading, I do about 20 to 30 minutes looking at a spread drawn from the Voyager deck by my beloved colleague James Wanless. I've found that the tarot is a great compliment to the astrology of an era, giving a simplified, picture-oriented look into the same life circumstances. Tarot shifts the perspective and uses the 'other side of the brain'. So that will be included as well.
I recommend this for Leo, Leo rising and Moon as well -- anyone with a strong kitty paw-print in their chart.
Till then --

The Road to Somewhere
|
Political Waves
The
Dog Days of Summer
are behind us now, and school has begun in many cities even though the hot weather continues unabated. Here in the Midwest we're into our third week of brain-numbing heat, a steady virtual temperature of 105-115 degrees. The air smells scorched. This is the hottest decade on record and the most uncomfortable summer I can remember, with insect populations and allergens exploding.
Heat captured by the ocean creates even more problems in the long term. An iceberg four times the size of Manhattan unexpectedly calved in Greenland last week. The Canadian Ice Service will monitor its drift to keep ships and oil platforms apprised of its location. I'm sure it's been this hot before, I'm sure icebergs of this size have dropped into the sea -- I just don't remember them. Everything feels sharply new and over the top. Our weather patterns are radicalized, and so are our political narratives. An uncompromising intensity on all fronts signals the approach of the next act, come what may. It may take a decade or two. History takes her time.
Speaking of schools, Nancy Pelosi called the House of Representatives back from their summer break to vote on an emergency jobs bill that saved 300,000 teachers, firefighters and police from unemployment. The $26 billion bill got Dem support, but Republicans objected that the money will go to teachers' unions and the bailout of spendthrift states that can't balance their own budgets. Think about that a moment. The good of the nation's school children is hijacked by a political party whose average age is well over 50. Intellectual discussions about bipartisanship don't factor in the disproportionate age differences. What might an absence of teachers look like in your community? What would happen to the kids if the teachers weren't paid? What would the future look like for them or for us? Republicans, who last month let almost two million unemployed citizens hang out to dry, sink to a new low in abandoning the nation's children.
Haley Barbour, governor of Mississippi and likely 2012 GOP candidate, complained that the federal windfall would equal the costs of reconfiguring the state budget to account for it. That sounds like a good conservative talking point only if you ignore the stats on national education, where Mississippi student achievement trails the very bottom of the list. Gov. Barbour appears unconcerned that his fourth-graders are the nation's least proficient readers, perhaps because Mississippi standards place his elementary students in the top 10%. The federal government sets a national standard, but as Mississippi illustrates, states can and do create their own. Mississippi, patting itself on the back, is a legend in its own mind. This is also true of Texas, which rewrites history to suit itself and continues to toy with the possibility of secession.
Registered Subscribers Continue Reading | Subscribe to Planet Waves





Weekly Horoscope for Friday, August 13, 2010, #827 - BY ERIC FRANCIS

In case you've missed it, Planet Waves offers
free weekly astrology audio
, which is updated every Wednesday by Eric. It's part of the
Daily Astrology & Adventure
blog written by Eric and the Planet Waves writing team. The weekly audio covers the astrology that's affecting you right now, with thoughtful guidance in a warm and personal format. One listener recently wrote, "This is such a RICH audio...very rich in conveying the cyclical time patterns of astrology as they correlate to historical events...supplies us students with a load of cosmic discoveries, brilliant insights and as always, much brotherly love and inspiration." You may access this week's audio at
this link
. Be sure to come back each Wednesday for the latest offering.
If you're expecting someone to 'catch you' you may be waiting a long time, or they may not bother. By that I mean that playing hard to get is likely to make you impossible to get, and if you're seeking the companionship of a particular person, I suggest you reach out to them honestly. You may feel as though you haven't wrapped up the old story of your relationships and therefore it's not time to start a new story. But part of the old story involved being impetuous and having that not work so well for you; the new territory (if the word 'new' means anything) is cooler, more thoughtful and made of more direct transactions. Your reaching out to someone is not the surrender of your independence, but rather the initiation of a process that could take a few seasons and which, in the end, will have a solid result.



Aries Birthday Audio by Eric Francis is available.

Check this link

for more information.



The way the planets are aligned, you may wake up to the reality of a situation the moment before it's too late; that is, just in the nick of time. This is an old story -- something similar may have happened at this time last year, and you thought you got the message and moved on. I suggest that, without going paranoid, you scan through the various situations in your life, and look over your desk and your appointment calendar and your bank statements, and make sure everything is in order. Listen to what people say to you and discern whether they're telling the truth. Be methodical. Start with the obvious and then, as you gather information, allow the process to continue for the next month or so. What you discover will make a difference, and may not only save you considerable trouble in the future -- it could be a source of significant profit. But initially, it's going to look like a problem, to which you will come up with the solution; and that turns out to be an invention.



Leos -- please watch your email later today with an announcement of the Leo birthday audio.

Are you torn between two concepts of who you are? Does it feel like you live in parallel worlds? It just might. And there is a catch, which is the sense that if you make a decision of any kind about which you prefer, you will eliminate the other possibilities. Here is a visual that may help you make sense of the situation. Imagine you're standing in front of a screen, about four meters back. There is a light source behind you, casting opposing shadows on the screen -- one to the left and one to the right. Those are the two seemingly different concepts of your life that you're struggling to get into alignment. If you turn around and face the light, you will be surprised to see that both shadows are from one source, not two. That is what is important to you. By important, I mean the most meaningful. It will have different expressions at different times, but those expressions are rooted in the core idea of your deepest values and desires. Look into the light, not the shadow.