By Judith Gayle
|
Political Waves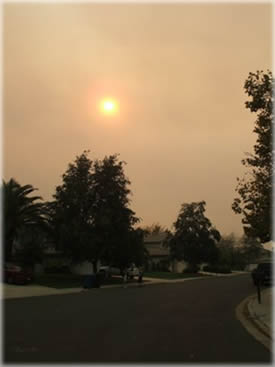 Temecula Valley. Photo by Judith Gayle.
DEVIL WINDS. That's what Southern Californians call the
Santa Anas
, the hot dry winds that sweep the area every fall and winter. Typically, the Santa Anas wreak havoc on Halloween decorations, make anyone with allergies or lung issues uncomfortable, and produce the mild weather for which the state is famous.
Kids ask Santa for skateboards and bikes with full confidence that they will hit the pavement early on Christmas Day, thanks to the play of wind born in the high atmospheric pressure of the deserts meeting the lower pressure from the coast. In the frigid months, while the rest of the nation is buried under ice and snow, the Devil Winds, like a blowtorch, push hot air across the California landscape with gusts up to 100 miles per hour. With it comes the likelihood of spontaneous and/or accidental fire...and the opportunity for arson.
Los Angeles has had its driest year in a hundred, rain has been scarce these long months of 2007. The bark beetle has done its damage in the mountains, creating diseased trees, their canopies brown and dry as tinder. The broad bands of chaparral that ring the housing tracts and bedroom communities in this part of the state are like little compact charges of TNT awaiting a spark. The locals all knew it was coming, they'll all tell you that -- but we never actually expect it, do we?
In 2003, the Cedar Fire -- one of 15 separate blazes -- swept through San Diego, jumping the freeways and burning homes in what was, at the time, the largest wildfire in the state's recorded history. It left us all stunned at the swiftness, the destruction, the sheer audacity of what the elements can do. What is happening this week is considerably worse, involving seven counties, running from Santa Barbara in the north down to San Diego and the Mexican border. Twenty-two separate fires, some already joined together and others threatening to, are being driven by the Santa Ana winds and the dry, combustible landscape.
Temecula is a valley community that splits the difference between the cities of San Diego and Los Angeles. It's become moderately notable for its wineries and its less expensive housing options, resulting in a commuting populace that travels long hours on Interstate 15. It is separated from the coast by a long ridge of mountain that is the back side of Camp Pendleton, the area Marine base.
And Temecula is where I find myself, taking my yearly trek to visit my daughter and her children...serendipitously...earlier than normal; I haven't spent Halloween here since the babies were born, and they're of an age for a grandmother to purr with pleasure at their costumes and excitement. My timing was perfect; now I can see how the children, 5 and 8, respond as the adults around them go tense as a harp string, a reassuring smile slapped on their faces while their brains configure the quickest escape route and survival plan.
Life is theater, eh? On Oct. 31, we will all try to scare ourselves, knowing everything is fine and spooky stuff is fun -- today, we're all trying to pretend everything is fine while the rat of fear is eating away at our stomach lining. Let me amend -- my own household is calm enough, having been schooled by familiarity with the slings and arrows of outrageous fortune; we trust that we'll know well in advance what we must do next. But those around us do not appear so dharmically inclined -- in the last days, neighbors have burst into tears, relatives have called to say they're being evacuated, salespeople appear jumpy and emotional, and the phone keeps ringing off the hook with more distressing news. Indeed, the news is frightening enough.
Two separate fires started on the back acreage of the base yesterday from a car accident and an ammo incident. Across the valley, smoke rises like a pillar from the Rice Canyon Fire -- the city of Fallbrook, the next in the chain of towns running the I-15, was evacuated two days ago after the loss of over 200 homes. The Rice Canyon Fire is closing in on us from the San Diego County side, the Rosa and Roca fires are coming at us from the north, in Riverside County. Some Temecula residents have been mandatorily evacuated. Our own schools, churches and community centers are full to brimming with refugees from other cities. Business continues, but it is shifting with each wind gust, each new carload of weary and frightened visitors, each new bit of news coming down the pipe. It's one thing to see smoke rise up on the horizon -- it's another to look into a sky blanketed gray and dark with smoke, and smell the acrid scent of burn.
The Santa Anas continue to play host to this demonic party, although they have calmed considerably; highest gusts of the day were reported at only about 30 mph. At this moment,
there are over 20 wildfires,
as follows -- the Ammo Fire, Wilcox Fire, Harris Fire, Rosa Fire, Walker Fire, Cajon Fire, McCoy Fire, Rice Canyon Fire, Witch Fire, Buckweed Fire, Magic Fire, Ranch Fire, Canyon Fire, Grass Valley Fire, Slide Fire, Poomacha Fire, Martin Fire, Roca Fire, Sedgewick Fire, Grass Valley Fire and the Santiago Fire. The Malibu Fire, the first in the series, is out now, leaving char and devastation behind.
In the 20 or more years I lived in this area (a section of Escondido already evacuated and threatened), I called the Santa Anas the Winds of Change. They produce a kind of nervous paranoia that keeps everyone on their toes and cranky. They seemed to act like a bookmark between what was and what was coming -- we spun up with the wind and once we landed, as it died away, we were on to a new chapter. The chapter being written today is one that is being characterized as
Bush's second Katrina
-- what was not done, not funded, not attended to will bite him on this, and few will be surprised. We have come to expect little response from this government, and seem unimpressed when we learn how many of the internal systems have broken down, how much of the public financing has gone elsewhere or is unaccounted for.
As always,
the people themselves
are responding in amazing ways, opening their homes to displaced friends and family members, and providing goods to relocation centers, clustered as thick as fleas on a hound everywhere the fire is
not
-- motels and other accommodations have faltered under the weight of refugees. The firefighters are seemingly tireless and valiant, and most everyone in these bedroom communities knows one of them (their kid plays ball with our kid, their wife is a hairdresser or volunteers at the PTA) and is keeping prayers for them and their families. Folks are tense, sleep-deprived and on alert, but their hearts are open, and that is a fine thing.
Schwarzenegger has been high profile, promising help and support, but the word is we don't have the resources we need to fight this perfect firestorm. Older homes are being allowed to burn. Insurance companies are already hitching up their rhetoric about what is and isn't covered. It will be a mess that will take months, more, to address. It's destined to become a piece of California history -- and another of the incidents that will show us that our emperor is naked, our systems are crumbling and our times are a-changin'.
California has its own set of traditions -- Santa Anas are one of them, like earthquakes. Our kids know how to find a sturdy arch or piece of furniture to crawl under until the shaking stops -- we teach them to identify the colors of smoke; billowed white for chaparral and ground cover, inky black for structures being consumed. They know not to panic. But a firestorm is a firestorm...there is nothing predictable about it, and no way to predict the footprint of what is raging around us. We have long depended on the emergency systems put in place with Santa Anas in mind; yet the resources -- the money and machinery that combat chaos -- seem to have failed us this time. And that's where we are -- now, today -- with some half million of us evacuated, depending on the kindness of strangers and the ineptitude of government. The rest of us are playing host and quietly plotting an escape route until the Devil Winds die away and leave us to the next chapter: the grieving, the mop-up, the rebuild -- and the Phoenix that will rise from all these ashes.
CREDITS: Associate Editor:
Priya Kale. Webmaster: Anatoly Ryzhenko. Proofreader and Fact Checker: Sara Churchville. Horoscope Editor: Jessica Keet. Associate Photo Editor: Sharon Bellenger. Business Manager: Chelsea Bottinelli.