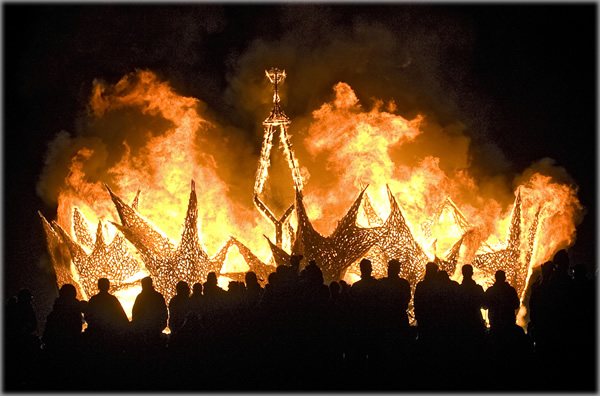 It looks intimate, but really there are about 30,000+ people gathered around this fire, at Black Rock City, Nevada (Burning Man) in September 2009. Photo by Eric Francis with love to
Larry Harvey
.

Friends, Readers in the New York Area:
This is an invitation to the first public exhibition of my photos. It's not at the Tate Modern; it's at Village Green Realty in Kingston. They called me up over the summer and asked me to hang some photos for the October First Saturday Gallery Walk.
That's at Coldwell Banker office (Village Green Realty) at
268 Fair St., Uptown Kingston
, at 5 pm on Saturday, Oct. 3. It's easy to find, about five minutes from Exit 19 on the Thruway.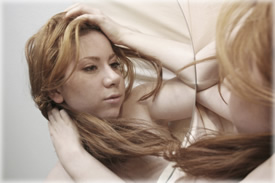 Ange from the Book of Blue series; Paris 2005. Photo by Eric Francis.
From the press release: "As a writer and editor, I've worked with some truly talented photographers. I've learned a little bit from all of them," he said.
"But I really learned photography on the streets of Paris. On the day of the second Bush inaugural in 2005, I bought my first digital camera [knowing absolutely nothing, at a store called Fnac]. Suddenly doing photography was free, and I was living in one of the most photogenic cities in the world, the birthplace of photography itself."
The exhibition is a retrospective of my past four years of work, including a series of photos from central Paris, images from Burning Man 2009, photos of Uptown Kingston and a series from the Book of Blue, portraits of women looking in mirrors. The exhibition includes about 27 images from the United States, Canada, France and Belgium.
The exhibition's curator is Sarah Bissonnette-Adler. [She's my assistant here in Kingston who spent weeks searching through my collection of 2 terabyte disk drives looking for cool photos, and even found a few. She patiently took care of all the editing and framing, and set up the catalogue of prints as well.]
I am devoting the whole evening to this and I'm sure I'll be at it all day Saturday as we hang the show. Please stop by if you're anywhere in the area. When we're done at the real estate office I'll open up my studio (which is right around the corner) and we can hang out.
Many thanks, and love to see you there --