Of Content and Marketing: An Open Letter
Dear Friend of Planet Waves:
When we began our Internet project in earnest back in 1998, I had a vision for a Web magazine that could cover all the subjects that everyone loves but cannot mention at the dinner table -- astrology, sexuality, gender, relationships, politics, environmental issues and art. The magazine would feature my horoscope and astrology writing and present all the talent we could attract.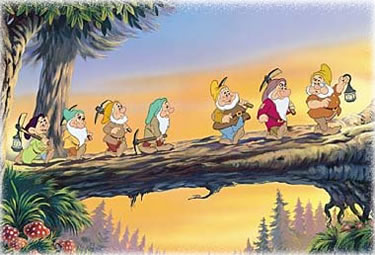 Planet Waves staff, on the way to work.
Even better, the concept was to be
reader-funded and thus advertising-free
. Over the past eight years, since beginning our subscription service, we've actually reached the Promised Land.
Planet Waves is supported by you, our readers
-- through your subscriptions and product purchases.
That in turn supports many other open access services for the public, for example, our blog that updates several times a day; weekly audio; content supplied to other websites; and a graphics shop that puts out some fun, original art that you see in Planet Waves.
We fund our whole operation for a year for what it costs to produce a simple 15-second television commercial
. That is efficiency! It's amazing what you can do when the community is involved; when people work for love as much as they do for money.
I remember one day around 2003 taking my then-new assistant Chelsea out to lunch and telling her: Okay, from now on we have to put energy into marketing. That was one year after beginning the subscriber service. We both have a distaste for this thing known as marketing. She looked at me skeptically. I can still remember the expression in her eyes. Don't make me do this. I told her: We really don't have a way to get around it, if we want to keep publishing.
Here's why I'm writing. In order for us to keep growing, and to take care of our staff, and to take care of me, we have to do evermore of this thing called marketing. I have to distract the efforts of our whole creative team, right down to our proofreader, to do this work -- and it takes away energy from the content that you want and that you love. For me personally, it feels like a breach of my integrity because as an astrology writer, my goal is to give you a clean reading, an honest approach to your psychology-astrology -- never to manipulate you. Marketing materials, however honest, always verge on some form of convincing or compelling.
I have a lot of really great article ideas for you (one on the astrology of self-employment, another on how to choose a therapist, another on the astrology of adoption) and trust me: I feel like a dork every time I have to put one of them aside and supervise another promotional campaign.
So, today I have three requests of you to help liberate us from this cycle, and put some love and energy into promoting Planet Waves. If you're not a subscriber, please sign up; give us a try. Subscriptions are inexpensive, they provide valuable information,
and they are guaranteed
.
1. Please tell your friends about us, via email, Facebook or face to face. Get the word spreading like fire. Please mention us on your blog, and tell local editors in your town about my horoscope. If you know editors of national magazines, please introduce us. Spread the word among your friends with the spirit that dependable, quality astrology writing is rare to find and worth money. Please be persistent. People usually need to hear a message consistently, over time, before they notice.

2. Please purchase subscriptions for the people you forward to regularly. If you want to set up a bulk order we will make that affordable for you. You can also adopt a subscriber, in case you don't have anyone special to purchase one for. My audio readings cost about the same as cut flowers and make a lasting gift for someone you care about.

3. Help us create our promotional materials. We need ideas! Some of you are talented writers, publicists and even part of ad creative teams. You know a lot more than we do about how to do this -- and how to do it well. Please get in contact and share your ideas and if you feel willing, please donate some of your time or your agency's time.
Everyone will benefit: we will grow and that growth will come right back to you in the form of better astrology writing and other content. You will get the true satisfaction of knowing that you're doing your valuable part to help create both community and a community resource that serves many, and will continue to grow and develop over time. We've come a long way -- and we have a vision.
On behalf of our staff and our subscribers, thank you.
Yours & truly,