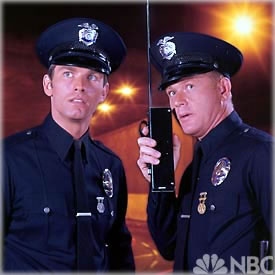 Jim Reed and Pete Malloy from
Adam-12
.
EVERYONE who lives in the USA knows that "we have the right to remain silent." That little prayer is from something called the
Miranda ruling
by the Supreme Court. If you get arrested, the cops have to advise you that you have the right to not testify against yourself, which is protected by the
Fifth Amendment
to the Constitution. The "Miranda warning" typically includes something like, "Anything you say can be used against you in court."
In our personal lives, we tend to apply the same idea -- and we take it way too far. We typically refuse to speak up with those we call our intimates, then we wonder why nobody understands us.
After so often refusing to attempt to speak, we wonder why we cannot find the words to say what we mean. When we don't compel others to speak up, we wonder why who they are so often turns out to be such a surprise.
We also have some issues with listening, but they are secondary. For anyone to listen, somebody has to vibrate their vocal cords, or set pen to paper. And it is true, sometimes we need to sit someone down and speak to them a bit forcefully in order to get a response, which many people don't have the stomach for.
The problem with speaking up is that you must either commit to the truth as you know it, or tell a lie. There is power in words. They crystallize ideas and give them tangible form, which can be exchanged like psychic currency. They can indeed be used against you; and we can use them to our benefit as well. But we do need to admit the risk involved. If you say something, you will either need to stick with it, contradict yourself, or change your views openly. But if you commit to your feelings, you can't dodge around in a noncommital haze.
But that haze gives those who emit it a form of power; often by being silent, we squeeze statements out of others, or compel them to speak to us. We leave them in a state of tense mystery about where we stand. Be silent long enough, hold back your opinion long enough, and others around you will get unstable. Used this way, silence is a particularly effective form of manipulation.
Mercury has stationed direct in Libra, in the process of a retrograde pattern that bridges Libra and Scorpio. This is about communication in relationships. The Libra-Scorpio line is where we develop partnership and association into commitment; where love evolves into passion and the urge to combine forces with another person.
Mercury working this line is an invitation to express the feelings associated with these themes. It's an invitation to tell ourselves and the people around us where we stand. Life is different when we live this way. For one thing, you don't seem so mysterious to yourself. Where you begin and others end becomes more apparent.
Our relationships are not a court of law, but too often they end up there. I think we can go a long way toward keeping them out of court and in the spirit of love by letting others know where we stand with them, and by asking them where they stand with us. It's easier than it seems. But you need to go into the discussion willing to accept the truth, and willing to act on it.

By Judith Gayle
|
Political Waves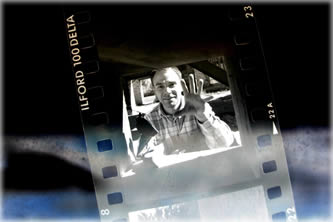 Letting Go. Photo by Sharon Bellenger.
LET GO. Now that's a surefire scary bit of advice for Halloween, eh? Let go of what is no longer reasonable, workable, and worthy. Let go of people, places, things and systems that no longer bless your life.
Transmutational Pluto is taking its final journey toward the Galactic Core for a big millennium-shifting shindig in December, meeting up with expansive Jupiter in what can only be called a life-changing event. Samhain is urging us to celebrate both all that's passed and all that's within our current harvest, just as Halloween invites us to run the streets in darkness and pleasure, trusting the good humor and kindness of the tribe -- the Sun, Uranus and Mars form a grand trine in water signs that allows us to enter a portal of
majikal
proportions, as comfortable with death as life, with darkness as light, aware of the All There Is without qualification. Yet, being humans, we may miss it...because in the stark light of day, everything around us is shaking with an energy that we both recognize and fear -- instability.
But we have our marching orders, don't we? Embrace change or get creamed. Holding on to what was is like inviting in the Big Cosmic Boot to move your unwilling little self along with a swift kick to the backside.
If letting go means "living on the edge," then it would be useful to do a brief mental inventory of our lives and realize that we're already there; we've been there awhile now, and we're managing pretty well. I know not a single soul who is flush financially with clear horizons ahead, or so secure in their community and relationships that they dance a jig each morning when the sun hits their bedroom window. I know very few people who are confident in their tomorrow or satisfied with their today. I can't think of a single friend who trusts their government to act in their best interest, their employer to commend them for their good work or their daily activity to be less than complex or aggravating. Yet we're chugging right along, most of us, living on the edge, gaining skills at being insecure and living in the moment.
Continued at this link...
In Our Blogs This Week
Apropos of the Scorpio season, Eric Francis and Sally Sunshine are both (independently) blogging on prostitution. Eric's piece is called
The Land of the Purple Night
, which is a somewhat romantic view of what it's like in Amsterdam, and Sally (an accountant) takes up the more practical matter of
The Economics of Ass
. In Political Waves, Judith Gayle looks at
The Party of Shriveled Hearts
. In Psychsound, Steve Bergstein follows up on his groundbreaking national story last week, on the FBI
coercing a confession
out of an innocent man and the courts covering up how he did it. On Sunday in
Dioxin Dorms
, Eric will look at the properties of dioxin as a homeopathic remedy.
Lois Gibbs to Speak at SUNY New Paltz
Speaking of dioxin, students at SUNY New Paltz will be sponsoring Lois Gibbs on the campus Tuesday night. Lois was the housewife who orchestrated the evacuation of the
Love Canal
neighborhood in Western New York in the late 1970s. The presentation, called "Toxic Environments," is at 8 pm on Tuesday, Nov. 5 in LC 100. Look for a separate Planet Waves press releases today or Monday which announces this in greater detail.

| | |
| --- | --- |
| | Weekly Horoscope for Friday, Nov. 1, 2007, #687 - By ERIC FRANCIS |
Aries
(March 20-April 19)
You may get yourself caught in a drama about public recognition for your efforts. The key to this will be not taking the situation personally; your work is one thing and what people think about it is another thing. Generally it's good that the two have an arm's length relationship; currently they seem to be dancing the tango. This would not be so bad if your emotional insecurities were not getting restless, seemingly of their own accord. How can you play this all to your advantage? You can start by seeing the relationships between seemingly separate circumstances. It would help a lot to notice that the things that seem to set you off are not the real concerns; make a habit of looking for the deeper layer, and you will find it.
Taurus
(April 19-May 20)
You may be feeling like you're at a monumental turning point, but at the same time, you sense that there is some piece of you missing. It seems like the picture of your life, or of your psyche, is not really complete. Yet is anything actually missing, or are you merely not noticing its existence? The real issue seems to be the presence of some inner quality that's not entirely familiar, and which you are therefore not recognizing as part of yourself. It's as if you're focusing on the obstructions to your energy, rather than the access to it that you have developed. You may well ask where this kind of defeatism came from; if you get an answer, you will have a clue what to do about it. One thing is clear: you are again in a position to let go of an inner block or obstacle that has plagued you many different ways at many different times of your life.
Gemini
(May 20-June 21)
You have tried the analytical approach; you may want to try a combination of expression and persistence. Most people with something to say or with the desire to create something underestimate how much dedication it will take. It's not fair to expect anyone to get the message the first few times you put it out there, mainly because you're still working out the fine points of what you are trying to say. Most of that working out comes in the repeated attempts to make yourself clear, so I suggest you welcome this process rather than resist it. You're not talking in circles, and neither are you wasting your breath. You just need to listen to yourself more carefully.
Cancer
(June 21-July 22)
It may be easier for someone you care about to contain their energy than to express it, and this may be extremely frustrating. On the other hand, they may be seeking to light their fire on yours, knowing how devoted you are to keeping that fire hot and expressing yourself boldly. Fire is the one element that can make more of itself, but in the process, something is consumed and many other things are created, ranging from heat to ashes. I suggest you look carefully at all these factors, but don't draw too many conclusions too soon. The point of actual contact has yet to come. The real discussion has yet to happen. It may take some days before their inner process allows them to bring their feelings to the surface, and it's not possible now to predict what that truth is. For now, focus on your own.
Leo
(July 22-Aug. 23)
You have a lot of friends who want to see you and spend time with you. I suggest you get on the phone, no matter how busy you are, and let people know that you love them. As regards the financial turning point you're at, what you must do is focus on what is important to you, though it seems like you're making some essential discoveries about what that might be. It's likely that you feel like you cannot afford what means the very most to you, but I assure you that is not true; to the contrary, once you figure out what that is, you will have exactly enough resources to make it real. The key will be refining your definition and setting the precise goal, and making sure you temporarily eliminate everything else from your agenda.
Virgo
(Aug. 23-Sep. 22)
You seem to be done hesitating; you seem to have lightened up, and this comes with sensing an option that you could not see before, or did not want to exercise. You may still take a while to make up your mind, but I would propose that you're making a different decision than the one you think you're making. No matter who else it may involve, the decision is actually about how you feel about yourself. You would do well to ask where some of your misgivings come from, and why you seem to wrestle with the same issues over and over again. If in the coming days or weeks you find yourself being alone more than you want, consider that an opportunity to consider what you want besides being alone; but more to the point, please make up your mind about what you have to offer.
Libra
(Sep. 22-Oct. 23)
There seem to be several different influences acting on you at the moment, but in truth you are the prime mover. You are in a position to establish a goal or stake a claim in the world, though this is deeply dependent on your sense of emotional security. Events will develop more or less like this: You will make up your mind about a goal, then have some misgivings about whether you've gone too far or even been too arrogant in your presumptions. While you're doing your soul searching, however, you need to focus on your objective -- even if you encounter some inner ethical dilemma. Trust me please, it has nothing to do with your ethics, only your confidence.
Scorpio
(Oct. 23-Nov. 22)
Commitment is never something you can push toward certainty. I think the concept is misapplied to relationships. From the outside it looks like we do something, but the doing is about a response to an inner movement. It would seem these days that a commitment you are trying to make is coming up against some invisible factor, or like a commitment you thought you made is dissolving and some other truth emerging. These are steps along the way to being truthful with yourself. Your past concepts of relationship, particularly those you collected in childhood or learned from the example of your mother, are not working for you. You may look out at the world and wonder what, exactly, will work for you -- but knowing what does not work is an excellent start.
Sagittarius
(Nov. 22-Dec. 22)
You are in the process of exchanging one kind of authority for another. Nothing about them is the same. The old kind of authority is what you grew up under, what the world suffers from, and the thing you have discovered has been so effective at strangling you. I suggest you experiment with different modes of authority; over yourself, over others, and in the way you perceive the world. You need to do this because this is a key time in your life for taking charge, of yourself, your affairs and to some extent, those around you. Yet this needs to be a new approach to authority, which begins with gentle self-mastery; which continues on the level of ideas; and which mainly involves making agreements, setting boundaries, and respecting those of others.
Capricorn
(Dec. 22-Jan. 20)
You risk getting way too caught up in the details for your own good. Those you have already taken care of, though you may not recognize it. You will discover this when you start taking care of the bigger issues, the structural ones, the philosophical problems you may not have considered. This is the essence of leadership now; and you are indeed being seen as a kind of exemplar when it comes to ethical questions that are too big for anyone to wrap their mind around. People often scoff at the idea of "situational ethics" -- that what is right or wrong depends on the circumstances involved. Regardless, this is a topic on which you are becoming something of a modern master.
Aquarius
(Jan. 20-Feb. 19)
You can forget about being a private person for a while; everything about your chart suggests that you are one who is directly involved with the world, with your community and with professional aspirations that in some way affect quite a number of other people. What you must do from this point forward is run your world without a trace of envy or control over the feelings of others. Your aspiration and actual success must be designed in such a way that you allow others to be equally successful or more successful than you are. This is always easier said than done, even for an Aquarian. But when you make contact with your own unlimited nature, you will be much happier about how unlimited everyone else is around you.
Pisces
(Feb. 19-March 20)
You have it in you to be the ultimate diplomat, which is a grand thing because you're also the ultimate radical. Among the people who get things done are those who are able to finesse their really out-there ideas into sublime delicacies. This way the people who require refinement, gentility and grace trick themselves into going for something entirely new, different, and which upends the status quo in some subtle or less than subtle way. Just remember, as radical, creative or weird as you may feel, you have the talent to make a smooth presentation, and oddly enough, someone close to you is in the mood to take the potion and transform themselves in an equally unusual way.
CREDITS: Associate Editor:
Priya Kale. Webmaster: Anatoly Ryzhenko. Proofreader and Fact Checker: Sara Churchville. Horoscope Editor: Jessica Keet. Associate Photo Editor: Sharon Bellenger. Business Manager: Chelsea Bottinelli. Published by Planet Waves, Inc., a Washington State corporation, all rights reserved.