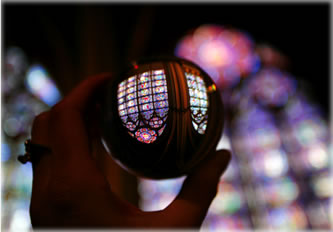 Small World of Notre Dame. Small World Stories will include many photos from around the world by our most talented photographers at Planet Waves. Photo by Danielle Voirin.
Dear Friend and Reader:
THANK YOU to everyone who has pre-ordered
Small World Stories
, so far, our most successful project ever. In this special edition website, I am offering extended-length horoscopes for 2008, alongside a first-of-its-kind study tool for those interested in the newly-discovered planets.
Though the horoscope portion is Sun-sign astrology, I take an unusually creative and in-depth approach to the work. Small World Stories is not an in-person reading, but I pour a vast amount of research and experience into each of the signs and each of the planets that I cover. By this point in my work, everything I say in a written report or horoscope in some way relates to work I have done with people in-person, or to my minor planet research.
As an astrologer, I strive to define questions in a way they can be answered, and to describe any problem in such a way that it can be solved.
There is, I feel, no other ethical way to do astrology for the public.
While I'm writing, I'm watching the email come in and thought I would answer some of the more common inquiries that I am seeing in Chelsea's and MaryLaura's inboxes. For a more philosophical and astrological version on this theme, I suggest you read last week's post,
Notes from Small Worlds
. The short story is, I'm inviting you to
sign up for the annual edition
today.
What exactly is Small World Stories?

Small World Stories is the 2008 annual edition of Planet Waves featuring the extended year-ahead horoscopes. Our annual is a
special themed edition that comes out once a year in a different flavor
. In 2007 it was called
The Spiral Door
, in 2006 it was
Parallel Worlds
, and in 2005 it was
Bridge to the Core
. Each sign gets an extended-length analysis of its astrology, factoring in many different elements: relationships, creativity, sexuality, career and finances. Astrologically for you and for me, it is the cosmic check-in for the next four seasons.
In this edition I also look at the impact of world transits, particularly Pluto entering Capricorn. I'll be exploring the election astrology and other global issues, and some of my closest friends are offering extra contributions.
There are also two special sections. One pulls together
a decade of my research into the minor planets
. Per the current plan, this includes the Dwarf Planets: Pluto, Eris and Ceres; the Centaurs: Chiron, Pholus, Nessus, Asbolus, Chariklo, Hylonome and Cylarus; and additional planets beyond Pluto, 1992 QB1, Varuna, Quaoar, Ixion, Chaos, Logos and Sedna. Nothing like this has ever been written or published anywhere. It is groundbreaking work. You have heard these planets mentioned, but it's unlikely you've read too much that makes sense out of them. This just might make you passionate about them.
Finally, there is a
reader-contributed section
of stories of a small world, about 35 in all. There will be many excellent pictures from our team of talented photographers, taken in numerous countries.
Is the annual edition included in my subscription fee this year?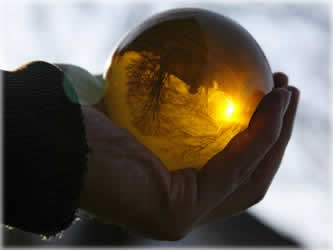 Photo by Danielle Voirin.
All subscribers, including comps, editors and our colleagues list, will receive a
short version of the annual
as the January monthly horoscope, distributed Dec. 28. It is excellent, but it's not Small World Stories.
Small World Stories is a
separate, one-year subscription granting one year of access to the materials
. At the end of 2008, the horoscopes will be made available to the public (mainly to encourage non-subscribers to invest in the next edition) and the minor planet section will go into a second, separate edition.
If you appreciate my Sun-sign horoscopes, these will give you something unusually detailed for what some call 'general readings'. If you are a practicing astrologer or astrology student, the entries on the minor planets will be indispensable at helping you sort out these energies and mythologies.
Why are you charging for the annual? It's been free all these years.
The annual is created by talented writers, artists and editors from 10 different countries and it takes more than 150 hours of my writing time alone. That is worth some money.
I would rather not buy on the Internet, if I can avoid it. What can I do?
Our Internet order form is convenient, easy and secure.
But you can order by mail (including gift orders), or by phone. To purchase by mail, please send a check with a note with your information including your email address written so clearly you can see it with your eyes closed; and your phone number; to
Planet Waves, PO Box 744, New Paltz, NY 12561
. Or, call
(206) 567-4455.
Someone will either answer or you'll get a recording. You can leave a message there. For phone orders, we need to get your billing address right so it's best if someone calls you back and you have a real conversation. We will get back to you within a day. Don't worry about price increases! Your price will be the day you initiated your order (made the call or sent a check).
Why does the price keep going up?
It is an incentive to get involved now rather than wait. Our business strategy (which we're taking a lot more seriously, with Pluto entering Capricorn) is designed to reward people who take early advantage of our offers, and it's designed to make sure we grow and thrive in the work that we do. We give several notices to subscribers before each price increase (there has just been one so far). You will see us taking a more assertive approach to business in the coming year, but you can always expect us to use fair, logical methods.
I have read that just before Small World Stories publishes, the signs will be sold separately to those just jumping in.
That is the plan. Some time close to publication (planned for between Jan. 3 and Jan. 7), each sign will be published separately for about $9.95, and the minor planet section will be an add-on for $9.95. The whole publication at that point
will cost about $130 for all 12 signs and the minor planets
. You can get it today, or give it as a gift, for
$24.95
. This is truly designed as a juicy incentive to get involved.
What is next?
In addition to offering subscriptions, Planet Waves will be issuing more one-time webspace or book products like this. The next one is called
Mars Calling
. It's a PDF book co-written by me and Paloma Todd in Spain. It will cover the astrology and psychology of men in depth, aimed for our many readers who are women and gay men. The next is called
Venus Calling
, and it's a very different project featuring the charts and photographs of women. The last book for 2008 is called
Chiron Calling
, and it's a guide to holistic healing.
For now, our focus is Small World Stories, the stories of the small worlds, and the smallest world there is -- the Earth.
Sign up by clicking this link
.
Many thanks,

Published by Planet Waves, Inc., a Washington State corporation, all rights reserved.