By Judith Gayle
| Political Waves
MY SCREAM is more like a croak, a bleat, a kind of guttural explosion -- not that I can't produce a glass-shattering scream that my son tells me verges on brown noise and forbids me to perform, unannounced. I'd give my elective scream a 9 out of 10; the actual noise I make when startled into panic, a disappointing 3 or so. I noticed this, again, when I discovered the snake in my kitchen. Thank you, Uranus -- you're such a prankster!
The Labor Day weekend was influenced by both a Mercury/Pluto square and a Mars/Uranus opposition, so if you're looking back and wondering about that train that hit you, there it is, there. My own family, which can be rowdy but seldom scrappy with one another, had already gone through several rounds of unexpected purging of what seemed to me old (even ancient) unresolved grievances, punctuated by the reported death of one of our elders; various extended family members reported events such as a funeral, scratchy family gatherings gone to name calling, two EMT visits and a good deal of displayed temperament. "I'm as tense as a fat tick on a hound dog," reported one friend...a city boy, yet. And me? I'm still waiting for the other shoe to drop. The snake was the whipped cream -- I know there's a cherry with my name on it.
Continued at this link...

By Eric Francis and Kirsti Melto
| Lunations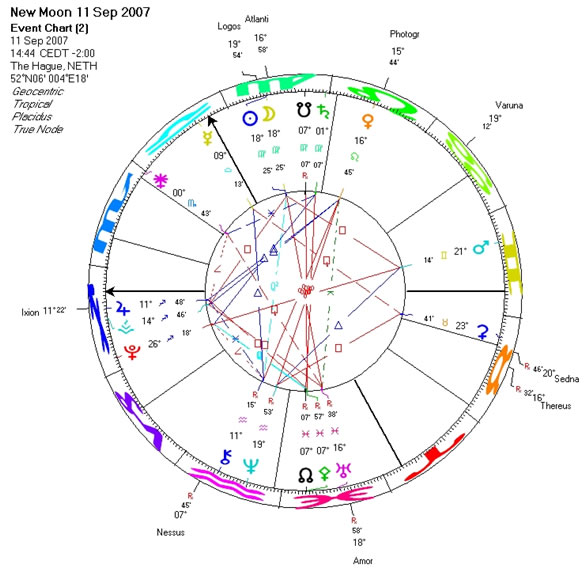 New Moon in Virgo -- Sep. 11, 2007, 12:44 UT. Chart by Solar Fire.
THE NEW MOON of September occurs at 18+ degrees Virgo. This is a partial solar eclipse on the South Node of the Moon. The focus is in Virgo at the moment, as earlier this month, on Sept. 2, Saturn entered Virgo for the first time in about 27 years. In addition, the current Venus retrograde began in Virgo, and Venus stations direct in Leo Sept. 8 -- just three days shy of the eclipse.
Sue Tompkins
says in
The Contemporary Astrologer's Handbook
about Moon in Virgo: "Strong on humility and gentleness, above all this is a helpful, kindly Moon and also one packed with common sense." About the sign of Virgo in general she writes: "Like Gemini, the other Mercury-ruled sign, Virgo wants information but, whereas Gemini is inclusive in orientation in that it gathers
all
information, Virgo is more
exclusive
: it only wants information if it is useful. Thus, Virgo has a gift for discrimination and prioritizing. There is a capacity for selection, an ability to sift -- criticism and analysis are key Virgo skills."
Continued at this link...

By Brad Blanton,
from the Radical Honesty newsletter
HOW TO become calm and centered and happy about being alive and in love with people most of the time depends on learning how to meditate in a new way. The meditation is called Radical Honesty. It is a meditation involving two or more people sharing their mindful awareness honestly. It is a kind of making love with or without intimate sex, and the real joy of sex depends upon it.
Happy people don't get that way by bitching and whining and withholding love and staying in that place. They may get bitchy and whiney in the process of getting out of that place, but they go through the feelings and sensations associated with that, notice, share and emerge into a new set of feelings and sensations on the other side of that.
They get happy by learning to forgive themselves and other people by being honest and present with each other. They are willing to get mad, pay attention to the sensations that are there when they get mad, express their resentment, experience those sensations and watch them come and go and then not be mad any more -- at either their mate or themselves. Sometimes it is a bumpy and irregular process but nothing is more wonderful than sharing an intention to forgive and doing it, and being acknowledged and loved and appreciated for it.
People who have the capacity for happiness get hurt and do the same thing. They pay attention, share, and let the sensations come and go. They remain detached from having to stop time and keep things the way they were a while ago, or to remain right and righteous and stuck in their mind. They get happy and do the same thing -- pay attention, share and let the feelings come and go. They get sad and do the same thing. The mindfulness shared brings about a kind of master cleansing of previously blocked sensate experience. The master cleanse allows for future contacts with the same person to be less fraught with guardedness and emotional baggage and it helps in relationships to all other people as well.
This is a powerful form of meditation. Depression disappears. Previous troubling thoughts become unimportant. Compulsive sexuality, sexual addictions, anger management problems and mind games of all kinds get melted down. This form of expressive loving acceptance and paying mutual attention and being willing to share and experience whatever emerges is the solution to what is usually called incompatibility. With this kind of exercise, issues having to do with self esteem, compatibility or incompatibility of couples are exorcised.
Your life coach becomes your former enemy, or whomever you are in contact with who is willing to pay attention with you to whatever comes up for either one of you. Flirting, seduction, lying, stories of right and wrong and a whole bunch of other things also get handled in these conversations with honest friends. The whole world can work better through this form of meditation.
For more information about Brad Blanton,
please visit his website
.

Weekly Horoscope for Friday, September 7, 2007, #679 - By ERIC FRANCIS
Aries
(March 20-April 19)
Key decisions on the work front are upon you faster than you anticipated. Use the coming few weeks to help establish the pattern you want to carry with you. This is a moment of discontinuity, and while you may not exactly be welcoming that, you can use the current changes as a way of breaking free of the psychological ruts that have held you to a particular course of action for longer than you care to admit. Now you must choose consciously and carefully what you do with each day, because those choices will establish the physical and mental pattern of your life for the foreseeable future. Anything or anyone that attempts to provoke you to do what you don't really want to do is merely an opportunity to hold to your new direction -- and to ask yourself again if it's what you really want.
Taurus
(April 19-May 20)
You are not known for taking extraordinary risks all that often, but now you seem prepared to take an enormous chance. You've probably noticed by now that certain past decisions were based more closely on a past vision of yourself than a vision of the person you are rapidly becoming. The question now is whether you will persist in living out circumstances that point you toward an outmoded identity, or you will reach into the unknown and, consequently, make many necessary adjustments to your life. Clearly, you were counting on certain developments to take a lot longer than they have, but it seems that once you stuck one toe in the water, you were suddenly sailing on the high seas. That's what can happen when you let yourself dream a little.
Gemini
(May 20-June 21)
You now have the example of someone close to you; they are demonstrating there are other ways to make decisions than the ones you typically employ. Yes, it's necessary to try several options, or to alternate between two of them; yet it's possible to give each option longer than you are accustomed to doing. At the moment you are deliberating over the data you've accumulated, and you're headed for a development that is likely to tip the scales. I would caution you, however, that you want to do everything in your power to ensure that you can take full credit for what you decide. If you are provoked by someone else, and then react suddenly, you may in the end be left with the feeling it wasn't really you who made this crucial choice. Therefore, take it slow.
Cancer
(June 21-July 22)
The ideas you have are, on one level, your own property, but they are worthless unless you share them. No, "have" is not quite the right word; they pass through you, with a purpose. Share does not necessarily mean give away, it just means that you don't need to covet them. The inspiration that others have so generously offered at many points in your life has spurred you forward, and you now have a chance -- indeed, many chances -- to pass that energy on. You will profit by your choice to do so, yet the greater reward will be the opportunity to do more with your talents than you have ever imagined, if you will confront your fears honestly and give yourself over to the experience.
Leo
(July 22-Aug. 23)
Part of living in tune with oneself (something that, by the way, is not something that Westerners are particularly good at) is letting go of your mental patterns, ideas and beliefs that work against you. This makes room for adopting and putting energy into the ones that support you and advance your purpose. This is a moment of clarity. You may have the idea that you can take your time doing these things, and it is true that generally it takes a lifetime or more. Yet at the moment, a diversity of factors are conspiring to make sure you are living, loving and loving life from a place that is close to your roots. What other people believe, and the ways they may deceive themselves, matters much less than that place where your feet make contact with the solid ground of your soul. Remember, all wealth comes from the Earth.
Virgo
(Aug. 23-Sep. 22)
Saturn transiting one's birth sign (which began for you Sep. 2 and extends through 2010) rates among the more meaningful events in our astrological story. You are, by chance or circumstance, being compelled to see the whole horizon of your life. Maturity has never been something you resisted, but now the challenge is to consolidate the gains and lessons of the past few years and, moreover, to take your own goals seriously. Others can do that for you, but in the end you are the only person whose respect can propel you forward on your cosmic journey. With so much emphasis on your professional life, I would remind you of this: you have two distinct missions. You must recognize them as clearly as a mother recognizes identical twins as different people, but never forget what they have in common.
Libra
(Sep. 22-Oct. 23)
The 12th house of astrology addresses things that are too large to conceive of. Do we walk down the street conscious of the fact that we are in a galaxy? Can we even conceive of being part of a city or country? Do we have any idea how many people our individual choices may affect, or how many people we are not conscious of are pushing us to do things that are entirely out of accord with our inner truth? An eclipse of the Sun in this sensitive angle of your solar chart will pull back the veils on all the ways you are intimately connected to the world, and open a dimension of yourself you generally cannot see. You tend to get trapped in certain details of that dimension; what you really see are the distortions created by your beliefs. Something else is about to happen.
Scorpio
(Oct. 23-Nov. 22)
Close partners seem to be taking their sweet time coming to certain decisions, an effect that has spilled into your professional and personal spheres of life. You can trust one thing, which is that someone you care about is not intentionally dragging his or her feet; rather, they are assessing the patterns of their life and searching for a new source of energy to help them on their quest for their personal identity. You are clearly not accustomed to these kinds of struggles; it's usually a lot easier for you to make up your mind than it is for the people you associate with. Not everyone possesses Scorpionic intuition. Stand back, though, and give the situation some time -- at least a week.
Sagittarius
(Nov. 22-Dec. 22)
Next week's eclipse of the Sun promises to open a door where your highest ideals or mission in life is involved. You are entering a phase where you have the Midas touch, and can use your power to make the world a better place. Because you live in the world, your life will become a better place, but you don't really need to think about yourself. On that dimension, you are strong, indeed, superlative. What you are being called upon to take up is leadership, and to lead effectively, you must lead by example. It often seems that the only way to get the truth across is by words, but take it from a writer: words only get you so far. Existence is much more potent.
Capricorn
(Dec. 22-Jan. 20)
Carl Jung remarked that most religion is the substitute for religious experience. While your birth sign tends to be associated with established dogma and strict rules, you as an individual possess a direct connection to the deep and distant past that at least allows you to see ideological bullshit for what it is. The next step is embracing your direct perception of what you know is true as your personal truth. Forget the seeming conflict and divided loyalty that preoccupies most people capable of thinking. Once you decide something is false, throw it away. Once you observe something is true, live out the experience and see whether it is actually true. "Belief" has no place in this discussion, except as an impediment.
Aquarius
(Jan. 20-Feb. 19)
A significant block to your progress seems to have melted into the ground. It took long enough, I am sure you agree. In the new environment you occupy, there are new rules of the game. One is that commitments and agreements need to be established in writing. Even if something is a long-standing pattern from the past, set it down in words, because those words and the process of creating them will teach you something about the commitments you are involved in. What you are seeking is the potential for change and refinement, and to write a good second draft, you need at least some form of a first draft. That is the point of ink and paper, precisely to encourage you to begin the process of revisioning and evolution.
Pisces
(Feb. 19-March 20)
You may feel under pressure, or worse, like someone is putting you under pressure. I can assure you that what you are feeling is but a shadow of what someone close to you is experiencing, for reasons that, on one level, have nothing to do with you. Yet on another level, they have everything to do with who you are and the influence you have on your environment. Uranus in your birth sign has you cast in the role of the person who pushes everyone to be free by the mere fact of your existence. You could walk around with a bag over your head doing nothing more innovative than playing checkers and people would still get that odd, nervous feeling that you're pushing them to deal with their hang-ups and get on with their lives. They may not like it today; tomorrow is another story.
CREDITS: Associate Editor:
Priya Kale. Webmaster: Anatoly Ryzhenko. Proofreader and Fact Checker: Sara Churchville. Horoscope Editor: Jessica Keet. Business Manager: Chelsea Bottinelli.