Planet Waves Special Edition: Sept. 11 Review
Dear Friend of Planet Waves:
Many people are curious, and concerned, about what really happened on Sept. 11, 2001. In a 2007 Zogby poll, more than half the respondents said that they thought that the White House should be investigated for its potential involvement. This indicates a level of deep distrust about a day that, in retrospect, turns out to be the moment that the 21st century was born.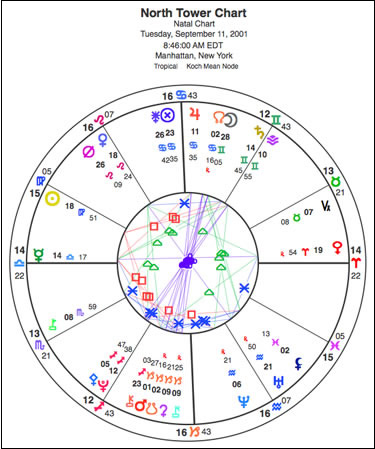 Chart for the North Tower impact on Sept. 11, 2001. Note that Mercury is the planet in the ascendant on the left side of the chart.
Click here
for a larger version of the chart.
What does astrology have to say about this? In today's special edition of Planet Waves, I review the astrology of the North Tower chart (Libra rising, Mercury in the ascendant). Then I look at a chart that I have not published on yet: the chart for the collapse of World Trade Center 7 at 5:21 pm on Sept. 11. To my knowledge, this is the first ever published report on the astrology of WTC 7.
Along the way, I have researched many odd events of Sept. 11 and integrated them into my analysis of the charts -- for example, it was reported by the media 27 minutes early (by BBC) and one minute early (by FOX) that WTC 7 had fallen down. In my report, I provide copies of those videos.
Today's edition is the most comprehensive analysis of Sept. 11 astrology that I've ever seen. In a succinct, easy to read format, I tie together many of the loose ends, using astrology as a platform. In the article, I write: "The problem with these questions does not involve their validity. I've looked into them all, and they all have a value worth considering, raising significant questions lacking easy answers. The real problem is social: it involves what others will think of you, or the fear of what others will think, when you start asking."
Today's horoscope interpretation covers Venus stationing retrograde today, as well as the Mercury-Saturn conjunction taking place right now. As you may know, my horoscopes are not the usual kitsch predictions of what might happen tonight. I use both astrology and psychology to analyze the charts, and provide an empathic, thought-through perspective on your life.
You can access this information -- and the archives -- by
subscribing to Planet Waves
. Or, you can purchase a single edition
at this link
.
See you there.
Yours & truly,