Dear Planet Waves Subscriber:
My friend
Stevie Jay
is right: everything happens at the gym. I've been regularly going for a few weeks -- I found a really friendly one near my studio, which is also an awesome social hub where nobody is drunk. And I've discovered a lot of energy and physical confidence I had no idea I was missing.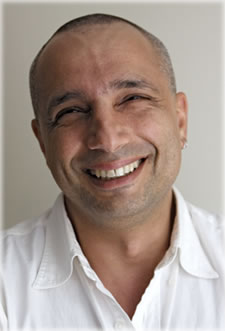 Photo by Elizabeth Joyce.
Today while I was there, I had an idea about Tuesday horoscopes. These are sent out on an as-available basis; that's why they're called bonus horoscopes. Currently I write two a month, and there are usually four or five Tuesdays in a month. Those three weeks without Tuesday horoscopes seem awfully long. We would all love it if there was a horoscope every Tuesday.
I have a plan to make that happen. As you can see from the length of this letter, it's a short plan.
Currently
Planet Waves Astrology News
has about 2,300 subscribers. A team of at least 10 people produces what you read each Tuesday and Friday (yes, it's true); and then just over two thousand currently receive the benefits. You can change that, by referring your friends, or purchasing them gift subscriptions. If you're seeing this and you're a pre-subscriber or former subscriber, support the cause by signing up or re-upping your old subscription.
When we reach 3,000 subscribers I will add a juicy, monthly themed horoscope on one Tuesday
(first idea, a relationship horoscope).
When we reach 3,500 subscribers, I will write a horoscope every Tuesday
. Let's set a time goal of 3,000 by spring equinox (about a month), and 3,500 by Beltane (May 5, six weeks after that). There are a lot of you; this will be easy if you count yourself in.
This is one of those win-win-win situations
. Your service will improve, renewal rates will improve, more people will get the rewards of the work we're all doing, and Planet Waves, Inc. will have better funding --
which always comes right back to you
.
We are offering two options
:
a six-month gift subscription
to
Planet Waves Astrology News
; and a
combined subscription to Planet Waves and Cosmic Confidential 2.0
(that is, including key life transits, when ready).
One last. If you send an email blast to your address book, promoting anything about Planet Waves,
we'll add a month onto your subscription
. Make sure you copy
chelsea@planetwaves.net
with that email to your friends, and
send it from the address associated with your account
, so we know where to add your month. Your message will need to be enthusiastic, and include the web addresses for both
http://planetwaves.net/
and
http://cosmicconfidential.com/
Planet Waves is one of the best bargains in the universe
. Good, carefully prepared, loving and humane astrology -- presented as part of life, not a 'separate thing' -- is difficult to find. Well-crafted astrology makes your life easier. We say yes to your highest creativity and dreams, we say yes to life and love, we say yes to existence. If you or someone you know needs a lift, a focal point, a stream of ideas or another way of looking at life, sign them up for Planet Waves. And let's get those Tuesday horoscopes fired up.
See you Friday.
Yours & truly,

Updates daily at Planet Waves and Cosmic Confidential Diary.