Planet Waves Holiday Publishing Schedule
Dear Critter, Cousin and Reader:
What a year it's been. In case you're wondering, I'm working on
Light Bridge
, deep into the 2011 charts, and I can tell you that the coming four seasons don't quite have that ridiculously over-the-top, out-of-control sensation of what we've been through in 2010.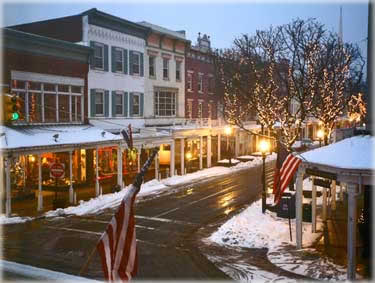 Uptown Kingston, New York, during the holidays. Photo by Eric Francis from the window of Blue Studio.
Life will be plenty interesting and we are still in an environment of nonstop change -- but I trust that we will see more opportunities to apply our creativity. The process of personal awakening that seems to be developing will emerge to the point of becoming obvious. The combination of creativity and awakening that is well underway feels a lot better than a "fix the world" or "fix my life" approach to existence.
More on that as the annual materials begin to come to fruition.
I'm here to go over some publishing schedule changes for the next few weeks, all designed to accommodate both
Light Bridge
and the extended forecasts for January. There will be no issue Friday, Dec. 17 -- I have some big horoscope projects on my desk and I want to focus on them; you will get the benefits toward the end of the year. For information about how the solstice applies to the Sun signs, please refer to the
December monthly horoscope
.
Here are the rest of the details. I don't expect you to memorize them; just know that through the holidays and the first week of 2011 we are on a modified schedule.
• I will publish a short advisory about the total lunar eclipse on the morning of Monday, Dec. 20. In U.S. time zones the eclipse takes place overnight Monday to Tuesday.

• I am planning one last weekly horoscope for 2010, on Friday, Dec. 24.

• There will be a short mailing on Tuesday, Dec. 28, a basic advisory on Mercury stationing direct. Please note that Mercury stations direct on Thursday, Dec. 30.

• I will release the January extended monthly horoscope on Friday, Dec. 31.
That takes us through the end of the year. There is a solar eclipse on Tuesday, Jan. 4. If I don't do a horoscope for that day, I will do an advisory. We will still be on a special schedule until regular issues resume on Friday, Jan. 7.
Tomorrow (Friday, Dec. 17) we will send out a
special offer for gift subscriptions
. Our main blog,
Daily Astrology & Adventure
, will continue on its regular schedule -- though I may do audio presentations earlier in the week, to accommodate the coming eclipses. Please check that page or my Facebook page for details. If the news gets weird, please check in with
Daily Astrology & Adventure.
That is updated in realtime.
Thank you and happy holidays.
Lovingly,