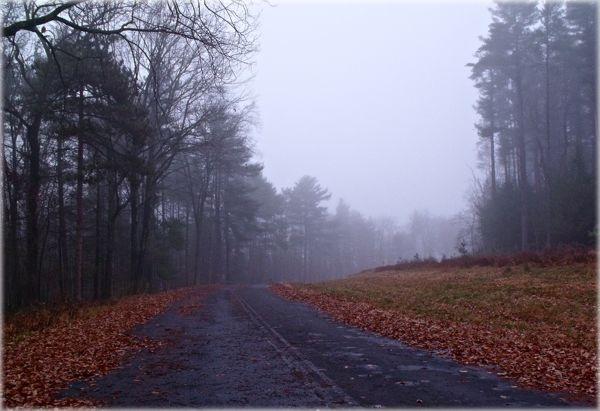 Road along the Ashokan Reservoir in Ulster County closed and barricaded in the wake of the Sept. 11 attacks provides a place of unusual tranquility. Moments before this photo was taken, my friend and I
saw a bald eagle glide between the two stands of trees a few feet in front of us. Photo by Eric Francis.
Dear Friend and Reader:

We are out of horoscopes for November, and I'm not going to do a special issue today. Here is the link to the November Planet Waves Monthly, as well as Planet Waves Inner Space and the Alternative Monthly.

By the way, the past few days have been quite interesting and lively on the Planet Waves main page, with extra coverage of Saturn square Pluto and the Scorpio New Moon.

Regarding Cosmic Confidential, the 2010 annual edition which I'm involved with these days -- it is still available to subscribers with all 12 signs at a discount. It will soon be sold by individual sign, with two signs costing as much as all 12 are currently going for (about $40). This offer is not available to the general readership -- but it's available to you for a little while longer. Here is that product page.

Catch you Friday.

Yours & truly,


---
Hey! Do you send Planet Waves by forward? Please sign up a friend.

If you want to add a few friends, call Chelsea and we will offer you a really good bulk discount for signing up three or more friends -- and extend your subscription too!

---